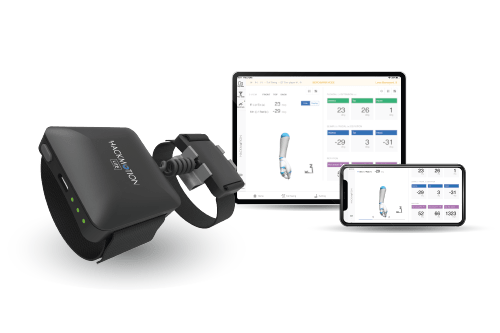 smart device for advanced coaching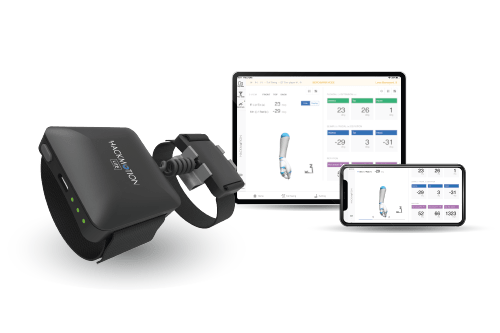 brings a hi-tech solution to coaches and players for improving wrist angle and clubface motion!
It's difficult to tell whether or not you are successful unless success is defined and tracked.
To both, the player and the coach - there is no better way to improve than base your training on facts and actual data rather than assumptions.
One of the most important things to measure and pay attention to is wrist movement.
In fact, adjusting the angle and movement of the wrist is crucial to mastering clubface control for improved ball flight.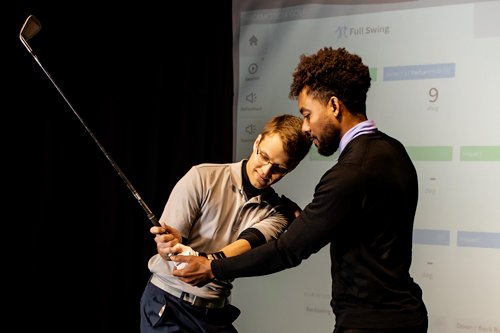 Still a large part of golf instructors fail to accurately measure and improve the wrist angle, as they simply lack professional tools that would provide actual and thorough data.
That is why they are falling behind.
Welcome to the new age of hi-tech golf coaching, where data is the most valuable tool ensuring you really are ahead of the game!
DATA-POWERED COACHING AT YOUR FINGERTIPS
Meet HackMotion LITE - the only super simple golf training solution that measures, analyzes and helps you improve!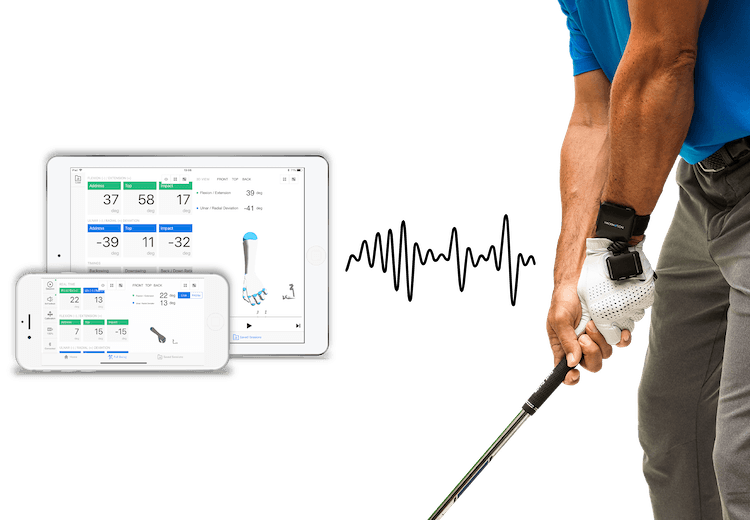 Free app available for iOS devices
1 of 6
Data for full swing, pitching, chipping shots and putts
2 of 6
Detailed wrist movements in 3D live mode
3 of 6
Lightweight sensor measuring all wrist angles
4 of 6
Get real-time and after-swing feedback
5 of 6
Auto-recordings of swing and wrist movements
6 of 6
HackMotion LITE Wrist Sensor makes it easier to measure and optimize your wrist angles to gain better clubface control and more controlled ball flight with smart biofeedback solution.
Compatible for full swing, pitching and putting, this nifty device lets you easily track and demonstrate progress during lessons, compare swings to previous data or PGA Tour player results.

HackMotion LITE simply helps you make smart, data-based decisions for improving ball flight and provides real-time cause and effect to accelerate the learning curve!
HOW HACKMOTION LITE HELPS YOUR COACHING
WHY TOP COACHES love Hackmotion
HackMotion is one of the most multi-dimensional teaching aides you can find. Wrist movements are quite difficult to analyze through camera. HackMotion has simplified this illusion for the instructor but most importantly for the student.
The next big thing in Golf Instruction tools—The HackMotion wrist sensor. A game changing device that's brilliantly easy to use and shows you, near instantly, things you can't see...but need to.
Great thing about Hackmotion is that I can trace the pattern of what the player is doing coming into the golf ball. Clubface is king when in comes to controlling the golf ball. With a good radar unit and HackMotion I can pretty much do anything.
HOW TO USE HACKMOTION LITE?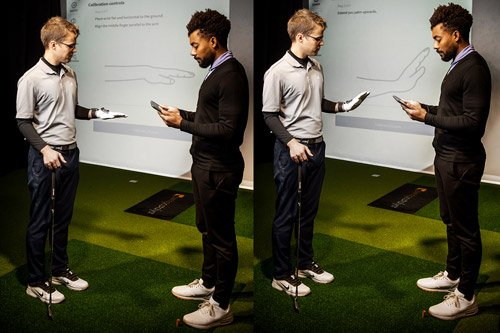 1. Set up HackMotion LITE in just 30 seconds
Super easy calibration and setup saves you plenty of valuable lesson time.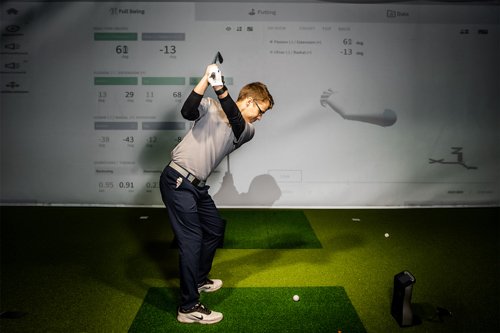 2. Make a swing and receive instant data
As the sensor automatically detects each swing, precise wrist data is immediately displayed.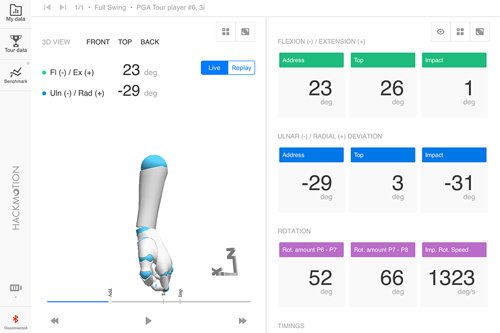 3. Compare with Tour player data or your previous swing data
Learn the different wrist motion patterns from Tour player's data library and your own data history.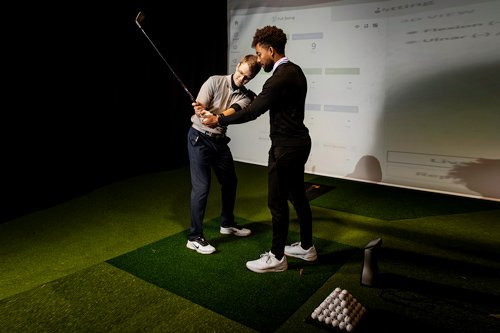 4. Train with real-time biofeedback
Biofeedback helps the player to improve faster by helping to understand the difference between what the player feels and what is real.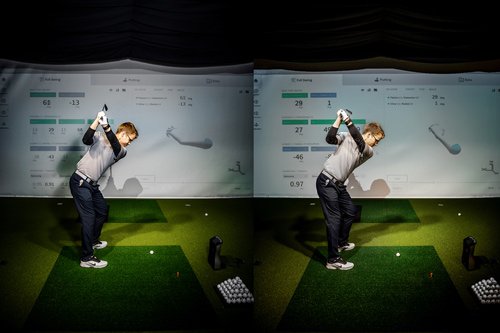 5. Track results based on actual data
With the precise data at your disposal, you can easily measure progress from lesson to lesson and improve faster.
HACKMOTION LETS YOU TRACK
Flexion/Extension
Measure wrist flexion/extension - bowed/cupped, arched/bent.
Radial/Ulnar Deviation
Measure radial/ulnar deviation - cocking/uncocking, hinging/unhinging.
Rotation
Measure wrist total rotation.
HACKMOTION: THE COMPLETE GUIDE
Martin Chuck PGA, Explains HackMotion:
THE MANY FEATURES OF HACKMOTION
JOIN THE HACKMOTION GLOBAL GOLF PRO COMMUNITY
Top tour coaches, instructors and players from more than 35 countries are already stepping up their game with HackMotion.
Be a part of the community!
Brian Manzella
Golf Digest Top 50 (#29), Golf Magazine Top 100 Teacher
Hugh Marr
European Tour Coach for Thorbjorn Olesen, Lucas Bjerregaard. Today's Golfer magazine's UK Top 50 Coach
Jake Thurm
PGA Tour Instructor. 2016-2019 Golf Digest Best Young Teachers. Instructor of the Year 2017-18 CHICAGO Golf Report
Chase Cooper
Director of Instruction at the Hal Sutton Golf Academy, Former professional golfer
Ian Clark
PGA Golf Professional, founder of Ian Clark Golf Academy
Christoph Bausek
Progressive Golf, PGA 1* Professional, AimPoint Level 3 Instructor, TPI Golf Professional Level 2 and TPI Junior Level 2
Ben Pellicani
Head Golf Coach Lipscomb, Head Coach Team 615, Instructor at GolfWesthaven, Head Coach Golf Fed. of Haiti
Jason Sutton
DOI at Carmel CC in Charlotte, Golf Mag Top 100, 2013 Carolinas PGA Teacher of the Year, 2015 Horton Smith award
Mike Granato
Director of Instruction at Mike Granato Golf, Athetic Motion Golf coach
Mark Blackburn
Golf Digest 50 Best Teacher, Golf.com Top 100 Teacher
Tom F. Stickney II
Golf Magazine Top 100 Instructor, Director of Instruction Punta Mita Golf Club
Martin Chuck
Teacher and Founder of Tour Striker Training Products and Golf Academy
Andrea Zanardelli
PGA Teaching Professional. TPI, AimPoint & Chuck Cook Certified
Mark Day
PGA Fellow Professional, Golf Coach at Whipsnade Park Golf Club, England Golf National Girls Lead coach in 2015, County Coaching Coordinator at Hertfordshire Golf
John Hobbins
Metropolitan Section PGA 2015 Teacher of the Year. AimPoint Certified Level III. Blast Certified for Putting. Full swing and short game instruction
Lee Chapman
Founder & Director of Golf Coaching @ RedFlagGolf, Netherlands
Mark Norton
Advanced PGA Professional, Tailored coaching to develop your game and reach your goals
JOIN THE TOP GOLF COACHES IN THE WORLD -
UPGRADE TO HI-TECH!
Step up your game with Hackmotion LITE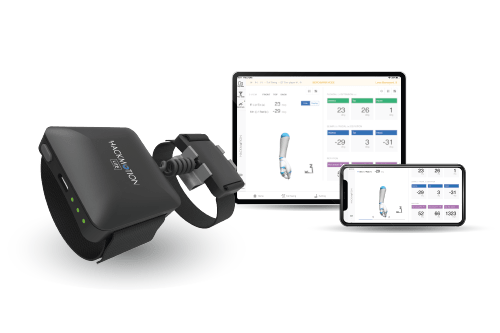 THE ONLY super simple TOOL FOR YOUR ADVANCEMENT
HackMotion LITE Sensor with core wrist measurement data and real-time biofeedback

Full Swing/Short Game and Putting mode

iOS app for iPad, iPhone (unlimited installations)

PGA Tour Player wrist data samples

Lifetime access to future software updates, no annual fee

Package includes wrist sensor, charging wire, user-manual

30 Day Money Back Guarantee

One-time-purchase, no subscription fee
HACKMOTION LITE

HACKMOTION FULL SYSTEM

1. Data and Measurement modes:

Full Swing/Short Game Mode

Putting Mode

Flexion/Extension

Radial/Ulnar deviation

Rotation Amount

Rotation Speed

Timing & Tempo

2. Data Views
Snapshot values/tiles view
Data tables with session averages
Real-time 3D hand model

Graphs showing detailed wrist motion throughout the swing

3D replay

3. Biofeedback and Benchmarking mode

Real-Time Biofeedback

After-Swing Biofeedback

Benchmarking (overlay 2 graphs or tiles to compare swings)

PGA TOUR Data samples

PGA TOUR Data sample updates

4. Software and other features

iOS app (iPhone, iPad)

Windows (Laptop, Desktop)

Lifetime software updates
Unlimited number of app installations

Customer support

Export swing data to CSV file (Windows only)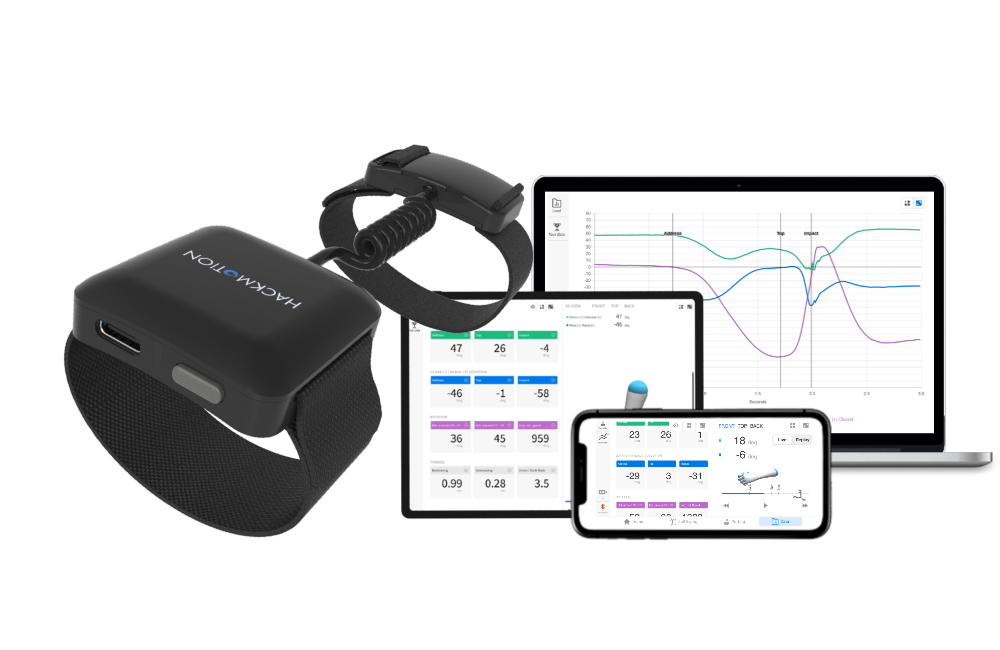 Interested in more advanced gear?
Learn about the benefits of having a Hackmotion Full System and how it can help you grow your coaching business with more advanced features!
stay AHEAD OF THE GAME -
GET YOUR HACKMOTION NOW!