David Orr (PGA Tour Putting coach, Flatstick Academy) analyzes Brad Faxon's (top10 all time putter) putting stroke. Watch the video with his excellent presentation (20 minutes) and explore the wrist data below the video.
The terminology used:
Flexion (-)/Extension (+) (green line) = Bowing/Cupping of the lead wrist
Radial (+)/Ulnar (-) deviation (blue line) = Cocking/Uncocking of the lead wrist

Rotation (+)/(-) (purple line) = Global Rotation relative to address. Closing clubface, counter-clockwise motion(+)/Opening clubface, clockwise motion(-)
Radial(+)/Ulnar(-) Deviation
Rotation Clockwise(-)/Counter-Clockwise(+)
Take a look at Brad Faxon's wrist data, broken down into parts. Pay attention to the sequencing of wrist motion- rotation, ulnar deviation and flexion.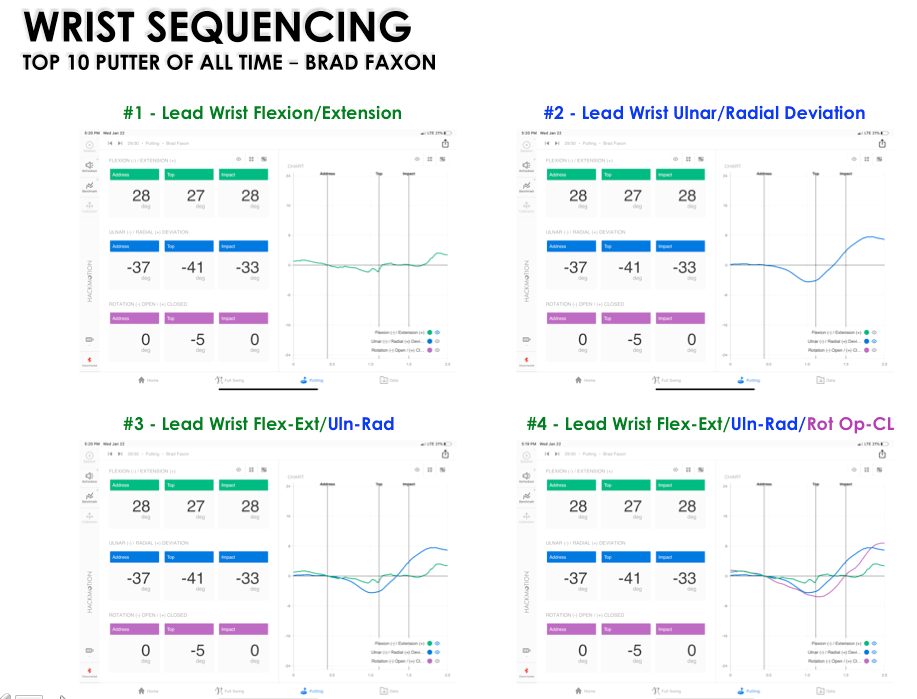 Since some wrist motion is inevitable, it is very important to understand if the wrist motion pattern is functional or non-functional. Here is an example of FUNCTIONAL PATTERN – lead wrist moves into flexion and ulnar deviation during backswing. Green and Blue graph lines are both moving in negative/downwards direction.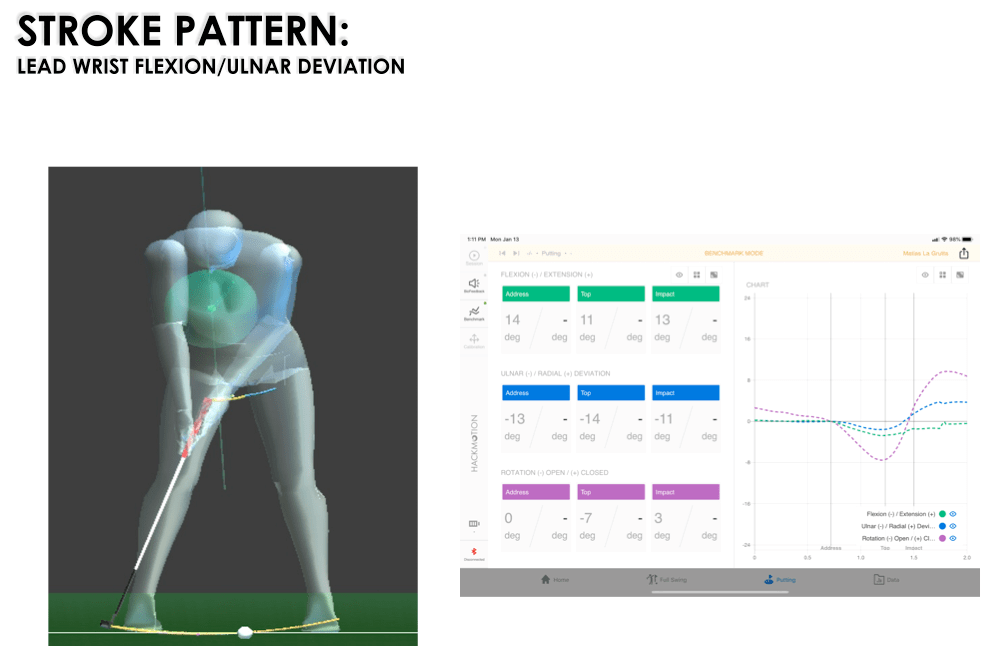 Here is an example of LESS FUNCTIONAL pattern – lead wrist moves into extension and radial deviation during backswing. Much harder to play from this position. Green and Blue graph lines are both moving in positive/upwards direction.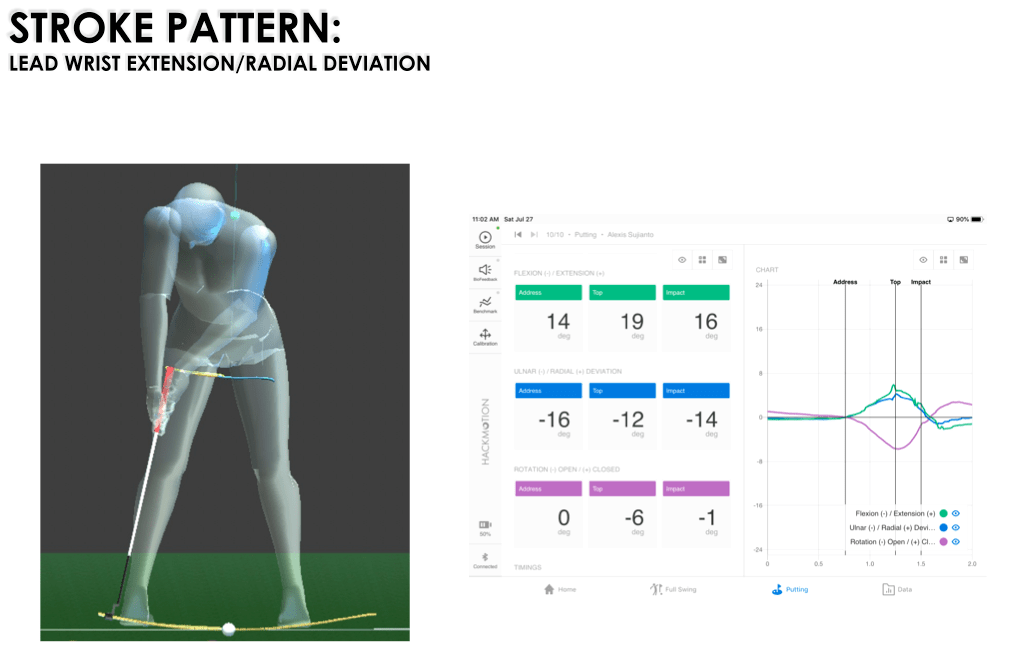 Setting biofeedback (audio signal) range is an effective way to improve wrist motion and decrease it if needed. Take a look at before and after data – there is less unnecessary wrist motion after the change.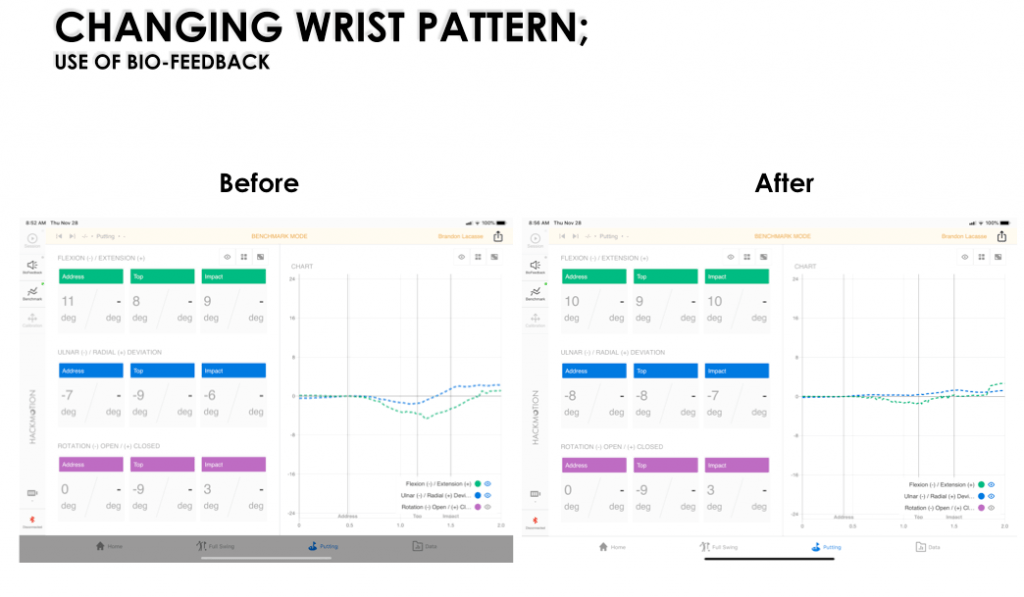 Conclusions:
Absolute Values vary from calibration to calibration
Absolute Values vary from player to player
Study Graphs of individual wrist motion first, then all together
Test Wrist Motion from varying distances – 10ft, 20ft, 30ft
No One had ZERO WRIST MOTION from all 3 distances tested
Minimal to No Wrist Motion from LESS THAN 10ft Only
Certain Wrist Sequences are very compatible and functional
TRANSITION WRIST MOTION is VERY FUNCTIONAL in certain stroke patterns
Ready to Try HackMotion Sensor?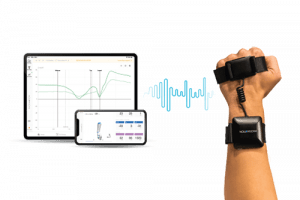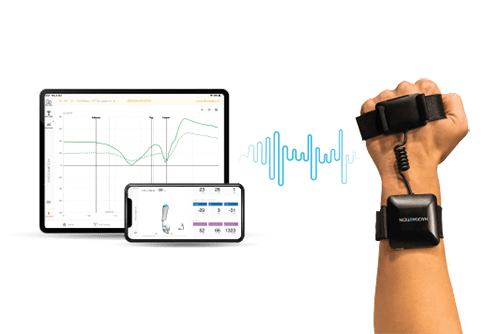 HackMotion sensor is used by world's leading coaches – Phil Kenyon, Scott Cowx, Allen Terrell,  Mark Blackburn, David Orr and many others. Join the ranks of the most the educated coaches in the game.
PGA Tour winners Dustin Johnson, Bryson Dechambeau, Brad Faxon and European Tour winners Thorbjorn Olesen, Lucas Bjerregaard and many others have used it to measure and optimize their wrist motion.
Access tour player data and compare your data against it. Find out your release pattern and optimize your performance.
Audio feedback helps to fix common swing faults – too much wrist cupping (extension) in full swing causing open club face and inconsistent wrist angles in your putting stroke.