What benchmarks to use for wrist angles during backswing and downswing?
Although the golf swing differs from player to player, Alistair Davies has shared a detailed example that coaches and players can apply when starting to optimize their wrist angles.
Watch the video (10 min) where Alistair Davies measures wrist angles with HackMotion sensor and explains exact positions of his lead wrist throughout the swing:
Alistair Davies looks at flexion and extension of the lead wrist, here are his measurements with HackMotion at the key positions:
Address:  the lead wrist has +20 degrees extension (cupping); 
Takeaway: extension of the wrist is stable, remains at +20 degrees. During this stage radial deviation is added.
At the top: flattening of the lead wrist should happen. Extension should not be higher than in address, consider 0-20 degrees of extension.
In transition: the lead wrist should go into flexion (bowing) at the beginning of the downswing.  Alistair's wrist flexion has a range of -6 to -12 degrees. Maintain flexed position throughout the backswing.
At impact: his lead wrist remains flexed. The range is similar to the one in transition -6 to -12 degrees.   
After impact: the lead wrist goes into extension.   
Practice with biofeedback!
Use HackMotion audio biofeedback to practice flattening the wrist at the top of the backswing,
Alistair sets the biofeedback range at -35 degrees flexion to +4 degrees extension, practices the position allowing the body to learn it. After a bit of practice improvement is instantly observable.
Ready to Try HackMotion Sensor?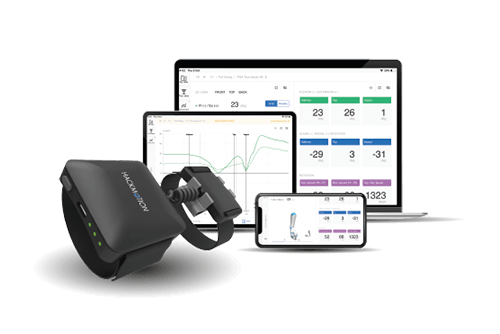 HackMotion sensor is used by world's leading coaches – Phil Kenyon, Allen Terrell, Scott Cowx, Mark Blackburn, David Orr, Brian Manzella, Mike Schy and many others. Join the rank of the most the educated coaches.
PGA Tour winners Dustin Johnson, Bryson Dechambeau, Brad Faxon and European Tour winners Thorbjorn Olesen, Lucas Bjerregaard and many others have used it to measure and optimize their wrist motion.
Access tour player data and compare your data against it. Find out your release pattern and optimize your performance.
Audio feedback helps to fix common swing faults – too much wrist cupping (extension) in full swing causing open club face and inconsistent wrist angles in your putting stroke.