Capturing Your Wrist Movement with HackMotion
Now that we know why controlling your clubface is important as well as the data that we can measure, let's explore how we can address our swing faults with HackMotion. 
In the Clubface Control mode, the application will highlight the three most important swing positions that you need to focus on: Address, Top and Impact
Since every golfer's swing is different, it's not important to focus on the absolute values of your wrist angles at these specific positions. What is important is whether or not during your swing you can maintain a stable wrist extension from your address to your top position and then square your clubface by flexing your wrist at impact.
Based on tour players' data, we have determined that generally players should aim to keep their Top and Impact positions within a specific range based on their Address position.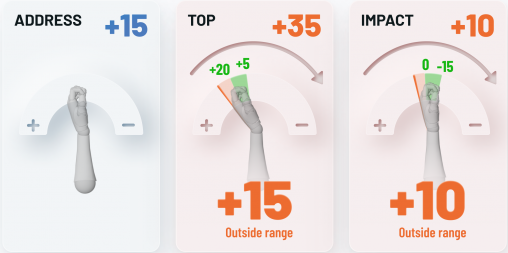 For your Top position, you should maintain extension by -10 to +5 relative to Address. 
This helps with maintaining a consistent swing and enables you to close your clubface more easily at Impact.
     2. For your Impact position, you should decrease extension by -30 to -15 relative to Address to aim for that closed clubface.
Since everyone's grip is different, your position at Address doesn't matter much. What matters is that you're able to keep a stable extension during your backswing and reduce that extension at Impact.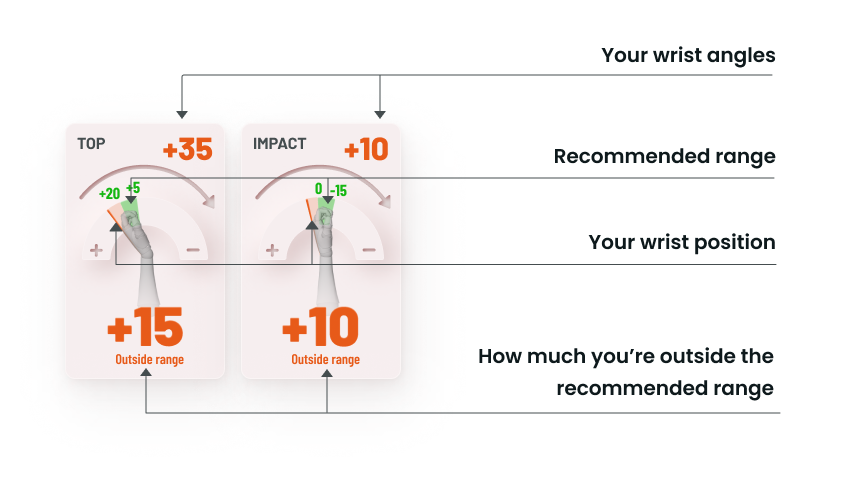 Your Wrist Angles
In this swing, our wrist positions were at +35 degrees at the Top and +10 degrees at Impact.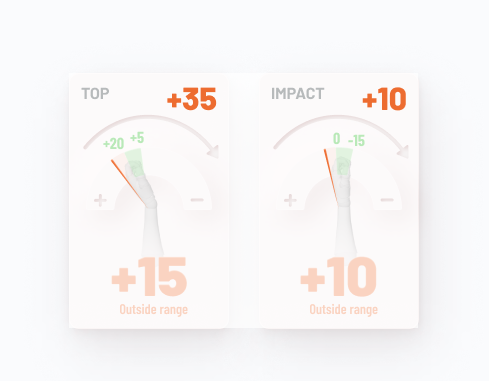 Recommended Range
If we analyze the shot that we captured above, we know that our Address position was +15 degrees.
This means that for the Top we should aim to keep our extension between +5 and +20 degrees, and for Impact we should try to reduce our extension to between -15 and 0 degrees.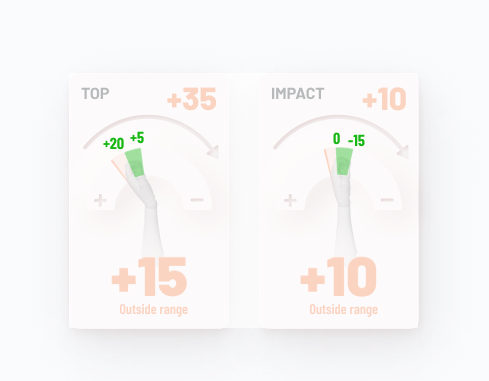 Outside Range
In this swing we failed to get in the recommended range for Top and Impact.
The "Outside Range" values show that at Top we extended our wrist by 15 degrees more than we should have and for our next shot should aim to flex them more (by at least 15 degrees). 
For Impact we had extended our wrist by 10 degrees more than we should have, which resulted in an open clubface and likely a pulled shot.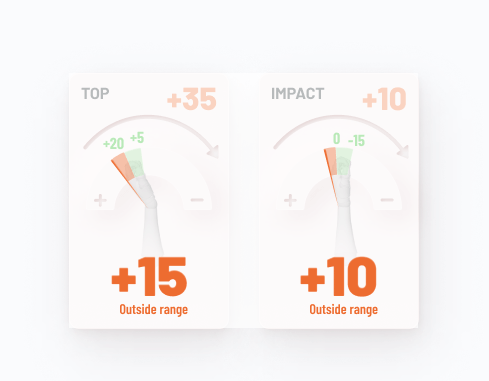 Now that you know what a bad shot looks like, the next step is to try to get a good shot.
After every swing, HackMotion will inform you whether or not you managed to get in the recommended range.
It's generally recommended to first try to consistently get your Top position in range. If you are outside the range, check the app to see in which direction you should move your wrists in order to get in the range. Once you are able to consistently get into the range for your Top position, you can start focusing on your Impact position.
After each session you can also access a session overview where you can see a summary of all of your shots and your performance together with suggestions on what to do to fix the the problematic patterns in your swing.