The golf season never feels as long as it should be. Squeezing in those extra golf days can make it so much easier to start your season strong and play golf all winter long.
Winter golf can be enjoyable. I've played a lot of it growing up, but it all comes down to preparation. You have to be prepared for what is to come when you are out on the course.
I'll give you some of my best tips for shooting low scores in the winter, how to stay comfortable and warm, and be consistent.
Playing Golf in Cold Weather (Key Takeaways)
Playing golf in cold weather may need a slight adjustment in your mindset. Chances are you will not shoot the lowest round you ever shot when the temperatures are less than ideal, but you can still enjoy a good round.
Always ensure you have extra layers of clothing in your golf bag, ensure you have ways to keep your hands warm, and have a towel.
Play with a lower-compression golf ball that allows you to get a few extra yards of distance when the weather isn't great.
Walk the golf course to create some extra warmth; taking a cart actually makes you colder.
Choose the perfect time of the day to play golf and learn to control the ball flight of your shots to be a better player.
13 Tips for Playing Golf in Cold Weather
Don't put the golf clubs away too soon. Days on the course where the weather is just a tad on the cool side can be opportunities to seize.
Here are my best tips for making sure you get the most out of the cold weather golf experience.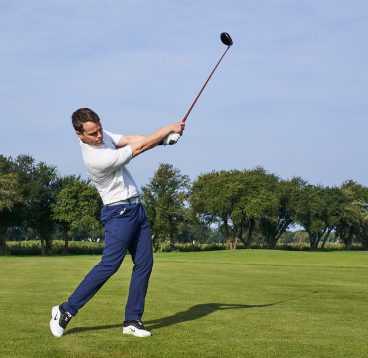 Weatherproof Your Swing: Master Wrist Mechanics
Improve your game in two weeks, even if 'wrist mechanics' sounds like rocket science.
1. Prepare the Golf Bag
Your golf bag must be packed with everything you need for a day out on the golf course in the cold. Things to include are:
An extra towel
Gloves
Handwarmers
Low-compression golf balls
Layers of clothes
Hat
The clothing you choose needs to be warm, but it also has to allow you to swing your golf club with ease. The problem with your regular winter sweatshirts, hats, and sweaters is that they will restrict your swing.
For cold weather golf, I always like to have an extra towel in my golf bag as well. The towel ensures that I can keep clubs clean, hands dry, or anything else I may run into on the course.
Remember that when it's cold, grass often has a hard time growing. The trouble with that is you will run into situations with more mud and dirt on the golf balls than necessary. Trust me, having an extra towel is not going to hurt your game.
2. Change the Golf Ball
Play with a lower-compression golf ball in the cold weather.
Golf balls don't fly as far in the cold; we have proven this through a lot of testing with launch monitors and golf ball data. If you want to hit the ball a long way, you will need to be able to compress the ball more.
For higher swing speed players, going from a 4- or 3-piece golf ball down to a 2-piece golf ball can make sense. For lower swing speed, players choose a softer feel 2 piece distance golf ball.
Again, we have to remember that scoring in the cold weather can be a little different, but these small steps and changes will make all the difference.
3. Grab Some Extra Time on the Range
Warming up in the cold takes a lot longer. Similar to your car, it's important to give your body a little extra time to warm up on those cold days on the driving range.
I would also do some stretching before your round to ensure that you are not setting yourself up for injury.
When you head to the driving range, spend your first 20 shots on shorter half swings where you get yourself turning and rotating. Work your way up through the bag until you get to the driver.
Ripping the driver out of the bag and swinging for the fences won't warm up your body, and it may injure you.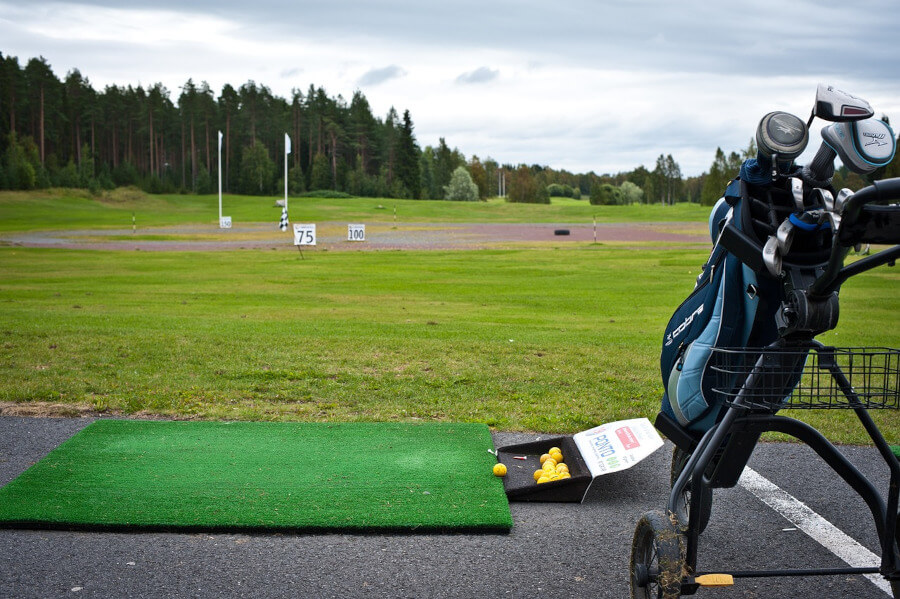 4. Wear Layers
Layers are very important to wear on the golf course.
The interesting part about golf is that you are on the golf course for so long you will have to deal with a variety of weather conditions. The temperatures may start out being in the high 30s and increase to the high 40s by the time you get to the 10th hole.
Having a wide variety of gear to wear will make all the difference.
Start with a long sleeve underlayer that helps keep you warm. Layer on a long or short sleeve golf shirt. Next, add something like a quarter zip or golf sweater. On the top, wear a golf jacket of some sort.
You would be surprised how many layers you can add to your golf wardrobe and the impact it will have on your ability to stay comfortable on the course.
As warm as you want to maintain yourself, you also don't want to get hot and start sweating in the cold.
5. Get Your Walking Shoes on
The winter is the perfect time to walk the golf course. Find golf shoes that are waterproof, as the winter turf is often a little wet. In addition, make sure the shoes are comfortable and not overly heavy.
I would stay away from anything mesh in the winter; you will want some leather or synthetic materials to ensure your feet are a little more covered.
Walking the course keeps your body warm, and you will also be less stiff than when you take a cart. If you have ever taken a cart ride on a cold winter day, you know that the temperatures make it really hard to stay comfortable.
6. More than One Glove
Wearing a glove certainly helps to maintain the grip on your golf club, even in cold conditions.
However, golf gloves can be worn on both hands for the cold weather.
Winter golf gloves are a little thicker than standard, and that can make them hard to adjust to at first. However, these winter gloves hold up really well in poor weather conditions and they help ensure you are comfortable swinging through without pain in your hands.
The winter golf gloves are sold in pairs, and keeping them in your bag is a smart idea. When the weather warms up a bit, simply put them to the side and put your regular glove back on.
7. Focus on a Good Strike
Making consistent contact with the golf ball is hard to do in cold weather. Leading up to the cold weather golf season, you will want to work on the consistency of your ball striking.
You won't hit your longest drives in the cold, and you have to adjust to poor course conditions and a stiff body. However, if you learn to focus on hitting shots with a clubface that is square, you will be able to play some decent golf.
Use HackMotion to help you feel in real time what a square clubface at impact can do for your game.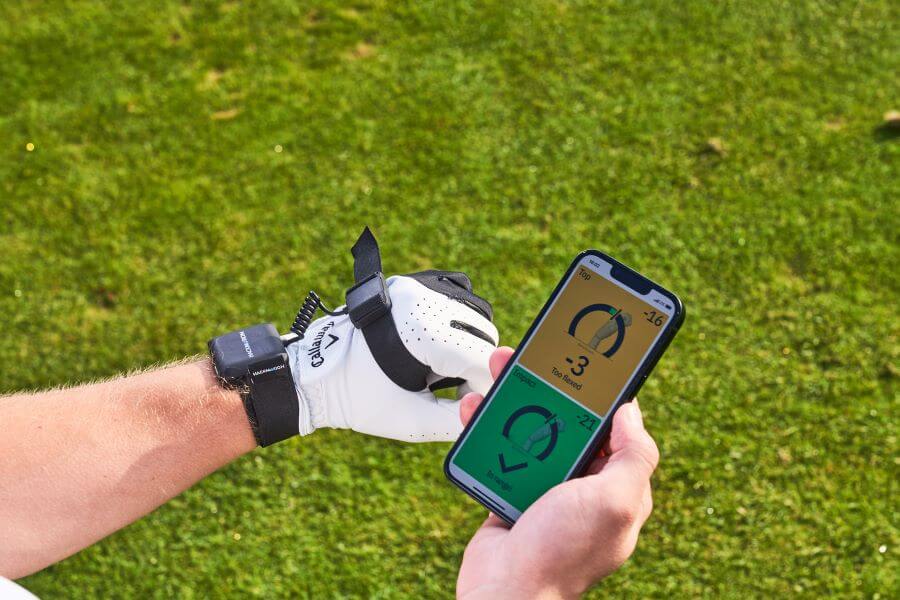 The HackMotion is a nonrestrictive swing trainer worn on your lead wrist that gives you information about your wrist angles and the positioning of your clubface throughout your golf swing.
Instead of worrying about hitting perfect shots in the cold, try and get a good strike.
8. Don't Forget the Hat
When playing golf in the cold weather, you will lose a lot of heat through your head. Don't let this happen.
Instead, wear a winter hat.
Golf hats make it much easier to stay comfortable on the course, and they won't restrict your swing or your play in any way.
If you struggle with glare from the sun and not being able to see while you play, you can wear a baseball style cap and put a winter hat on top of it.
9. Hand Warmers
There is nothing worse than trying to strike a golf ball with confidence when your hands are cold. All you need to do is hit behind one shot, and you will be sorry that you didn't have hand warmers in place.
There are a variety of hand warmers out there to choose from. Some are disposable, but others can be charged via USB, so you can use them round after round.
Hand warmers can be kept in your pocket to help you have a place to store your hands when necessary. Pay close attention to how long a hand warmer lasts; some only last for 2 hours, and others will last for 6.
Think about how long you plan to be on the course.
10. Play Later in the Morning
I love the early morning round. You can be the first one on the golf course, get out there quickly, make your way through your 18 holes, and still have the rest of the day in front of you. However, the early morning tee times in the winter are just too cold.
Try to choose a mid-morning time when you can have the majority of your round during the peak temperature for the day.
Later in the morning, you have the best chance for comfortable temperature and fair weather; take advantage of that.
Late in the afternoons, the temperature will go back down, so make sure to be smart about the times you play.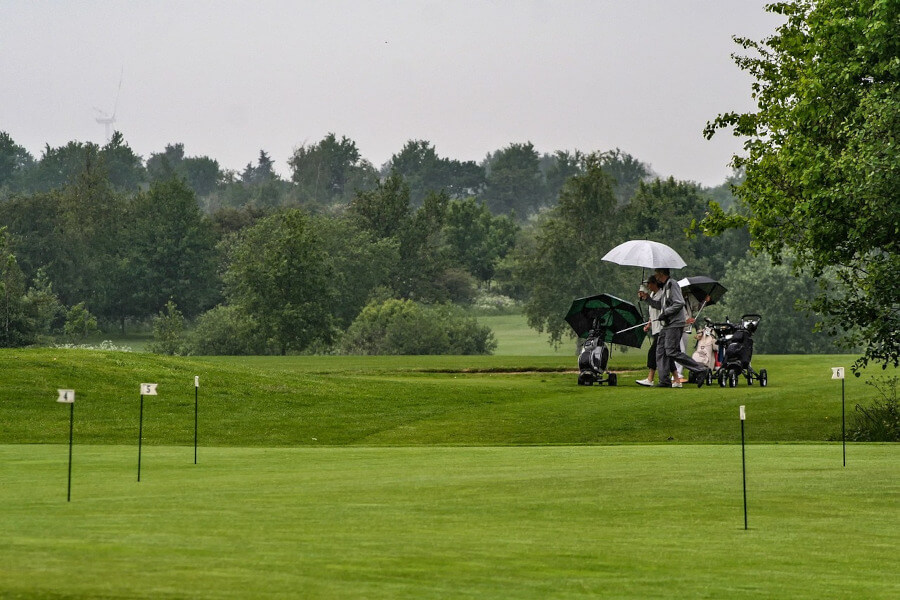 11. Know Your Limits
Sometimes, the weather is just too cold.
You have to find what temperature works for you where it is cold but bearable out on the golf course. For many golfers, this is right around that 40 degree fahrenheit temperature. If it gets colder than this, and then you factor in a little wind, the course conditions are tough.
Also, look for days when the sun is coming out and know that on those days, you may be able to tolerate a colder temperature.
The thing to watch out for, if you don't pay attention to your limits, is sloppy golf, where you start making unnecessary swing changes.
You may be frustrated, take some poor swings, and then have to figure out how to deal with that moving on.
12. Learn to Control Ball Flight
Finally, if you want to play great golf in the winter, you have to learn to control your ball flight. It's great to be able to hit the ball left and right, but mostly, what you need to work on is the ability to hit the ball high or low.
Many golf courses play hard in the winter.
This is not a bad thing as it can help you get extra distance, but you have to be able to control the flight.
Learn to hit knockdown-type shots, bump and runs, and stingers. You will keep the ball under the wind, cut through the poor weather conditions, and set yourself up for birdies that will lower your scores.
You have to be a bit more creative to play great winter golf, but this is entirely possible. Practice these shots, plan them into your golf course management, and make your way towards lower scores.
Even if cold weather golf is not the traditional way that you play, it's still great to be out there.
13. Keep Your Tempo
The golf ball does not go as far when you play winter golf. Therefore it makes sense to focus more on your tempo, timing, and even your fundamentals.
Don't worry so much about hitting the longest shots of your life or shooting the best scores.
Golf course conditions won't be nearly as good, and the course is going to beat you up a little. Instead, keep tempo at the forefront of your mind, make a good swing, strike the ball with a square clubface, and be happy you are spending time out on the course in the winter.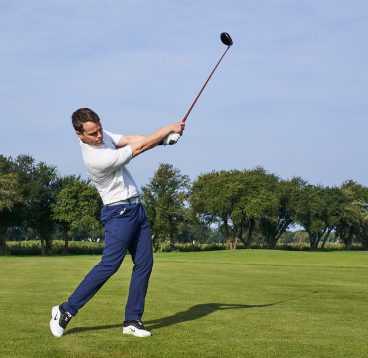 Winter Practice? Perfect Your Wrist Mechanics!
Learn wrist mechanics for FREE and optimize your winter practice.
Final Thoughts
Don't give up golf in the cold weather. You can extend your season by months on either end if you are smart about preparing for golf in the cold weather.
You may be surprised by how enjoyable cold weather golf is, especially when you see how empty the golf courses are!
Was this article helpful to you?
Your feedback shapes the future of our articles. Help us deliver the best content for you.
Great to hear! But what could we add to make it even better? Share any suggestions to make this post top-notch.
We're sorry to hear that. Could you share what was missing or off?